Cohn, Goldberg & Deutsch, LLC
Since our Firm's inception, our team has consistently combined aggressive advocacy with creative, innovative, and practical approaches to solving problems and achieving goals. The Firm has spearheaded new theories in law to protect the interests of its clients, as evidenced by published decisions and articles. Our clients include national and regional lenders, servicers, private asset management companies, and individual creditors. By providing personalized, high-quality legal representation to our clients in all aspects of foreclosure, bankruptcy, evictions, and litigation, our Firm has a high level of repeat business from many long-term clients. We believe this reflects the stability and harmony of the approach that results from a significant association of experienced employees. Our experience has confirmed that by providing seasoned staff with appropriate subject matter expertise, clients consistently receive more successful results at a lower cost. We can also give our clients the level of personal services rarely found in larger firms. All of our attorneys are actively involved in the day-to-day practice. Drawing from our broad professional experience and our excellent national and local network of contacts, our staff has the necessary resources and skills to protect our clients' varied interests. The Firm employees have an average of 15 years of experience.
Our Firm's principals have clerked for judges, taught at prominent schools, published and lectured on various legal issues, and held executive positions in various corporate and charitable organizations. Attorneys in the Firm are active members and leaders in the USFN, ALFN, and NADP.
Cohn, Goldberg, and Deutsch, LLC has developed substantial expertise in legal services in all aspects of foreclosure work. We have gained a unique perspective on federal, state, and local laws, as well as an understanding of their historical development and an ability to interpret complicated emerging trends.
One of our Firm's strengths is our ability to uncover hidden title problems. After analyzing a problem, we generally solve it efficiently and quickly, saving clients time and money in accomplishing their goals. We draw on our expertise from related fields of corporate law, bankruptcy, taxation, and litigation to handle and arrange a client's complete legal needs.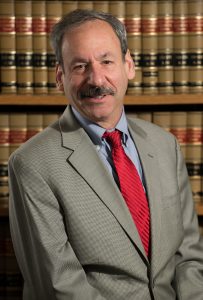 Mr. Deutsch is a Managing Member of the Firm. He practices in the area of both commercial and residential foreclosure, bankruptcy, and eviction. Mr. Deutsch obtained a nationally recognized reported decision in Island Financial v. Ballman, 607 A.2d 76 (1992) and has published dozens of articles in industry publications. He is a former member of the Board of Directors of REOMAC, a former member of the Board of Directors of the USFN, the former Chair of the Real Property Section of the Maryland State Bar Association, and a lifetime fellow of the Maryland Bar Foundation. Ron is the former Chair of the Foreclosure Committee of the Maryland Bar Association and served on Governor Martin O'Malley's Maryland Homeownership Preservation Task Force – Legal and Regulatory Reform Work Committee, established to rewrite Maryland's foreclosure law. He is A-V rated with Martindale-Hubbell. He maintains memberships with the Maryland, Virginia and District of Columbia Bar Associations. He is also licensed to practice before the United States Tax Court and the United States District Courts for the District of Columbia and Maryland.
In addition to lecturing at the University of Maryland, Montgomery College, and the PDI Institute, Mr. Deutsch is a frequent speaker at industry events. He has also co-authored and co-edited the Maryland Treatise on Foreclosures – Gordon on Maryland Foreclosures, the District of Columbia chapter in the National Mortgage Servicer's Reference Directory 27th Ed and co-authored Maryland Foreclosure and Repossession, National Business Institute. The Maryland State Bar Association recently awarded him the Distinguished Practitioner of the Year Award, which is given annually to a Maryland real estate attorney who best exemplifies the experience, client service, technical skill, integrity, collegiality and courtesy that all real estate lawyers strive for in their professional lives.